Thangka of the Buddha Amitabha in 2005
2017.07.27 Thursday
It was about 12 years ago when I was living in Belgium.
One day a man came to visit me after seeing a Thangka of Guru Padmasambhava which was displaying in a organic shop "La Tsampa".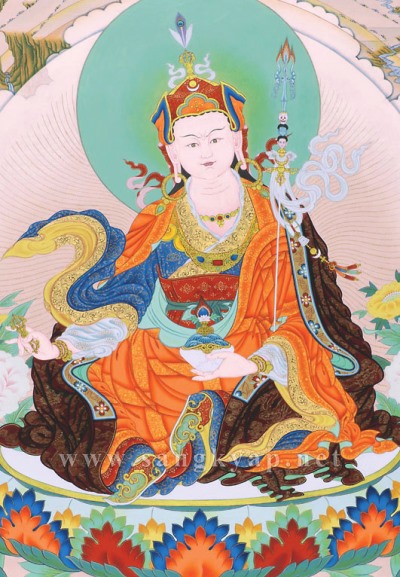 Guru Padmasambhava
He said he liked very much the Thangka in the shop and would like to order one for him.
"The order is a bit special one. I would like you to paint a Thangka based on certain image which I like very much."
He showed me a small piece of paper with an image printed on.
The printed image was a Buddha with monks dress sitting on a throne.
I asked him,
"Do you want me to paint exactly same like the printed image?"
"No. Though this image is what I want it's just a simple image. So please improve it when you paint."
"And how about the color,,,?"
"The colors should be close to this image."
"In Tibetan tradition, the body of the Buddha Amitabha is red,, is it fine if I paint in red?"
"No, I would like you to paint like the color in the print."