Giclee reproduction 1
2013.06.26 Wednesday
I've made Giclee reproduction of the thangka of Guru Dorje Drolo.
The color which we see of the digital images are very much depending on the setting of the monitor.
Also the actual color of the printed images are very much depend on the setting of the printer, on what it's printed(paper,canvas etc) and the type of the ink,,,,etc,,,etc. So it is quite difficult to make good color reproduction.
We had printed many of proofs to check the color.
The printer said 2 or 3 times proofs would be enough but finally they had to print 10 proofs to get good result.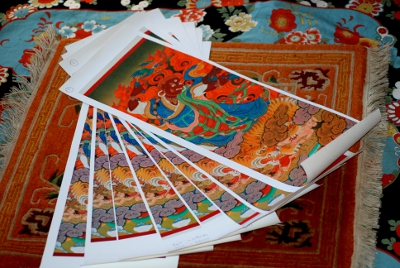 They said printing on paper is better for the small details but I still chose the canvas so that it can be framed in traditional Tibetan style with brocade and can be rolled.