Workshop in Hong Kong 2019
2019.05.22 Wednesday
Thanks to Kim who is one of my fellow Tsering art school graduate Thangka painter and who now run a Thangka school "Munsel Thangka School of Art 捺烩赔卡供侯技 " in Hong Kong, I'm going to Hong Kong to open a week end Thangka workshop this summer.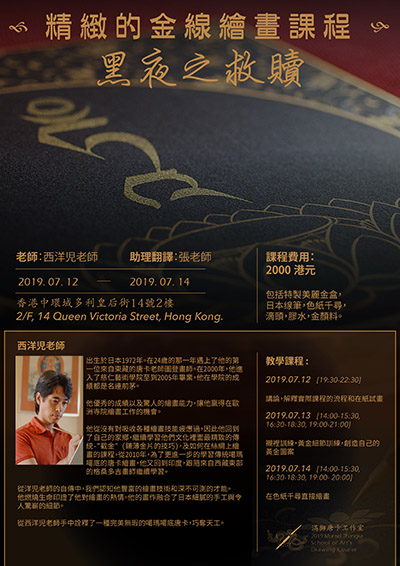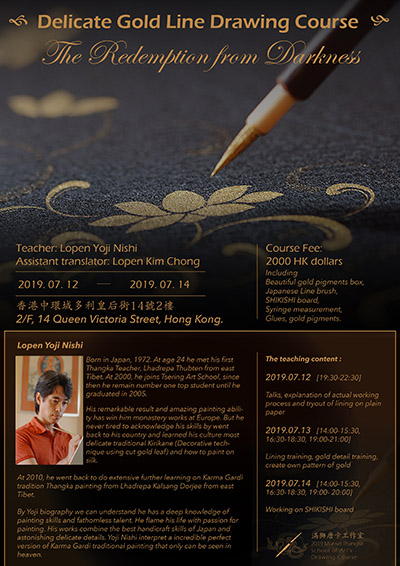 In the past, I have been to Hong Kong twice.
First time was more than 20 years ago. It was the very first place I went for my long journey to Nepal and become a Thangka painter.
After that I visited Hong Kong again as the starting point to go to Tibet.
Now I'm once again got a chance to go there not as a traveler but as a Thangka painter.
The workshop will be held at Munsel Thangka School of Art 捺烩赔卡供侯技 for 3 days. 12th to 14th July and the theme this time is "Flowers"
In this workshop you will learn how to make a beautiful lotus with gold lines and also decorative gold pattern with simple brush work.
Lotus is related deeply with Buddhist teaching. Please check the post on Munsel Thangka School of Art 捺烩赔卡供侯技 Facebook page about "Lotus".
To create smooth lines is essential for beautiful Thangka painting and this skill will be certainly useful for your future Thangka works.
My real intention is to offer a chance to train and gain some skills of the lining more than just create an art piece.
But still it's nice to have one as a result of this workshop, not just the "training"
So that I prepared several good materials.
You will create your work on a SHIKISHI paper. Shikishi paper is thick paper board with gold border and it will be colored so that your gold line will be nicely visible.
The gold pigment we are going to use this time is not the real gold but the one which is very similar to the real gold from Japan. Very fine particle and nice shiny gold color.
And finally, I have made two special stamps of deity seed syllable.
Honestly speaking, I was not sure how this will turn out while making calligraphy(fortunately I have learned Tibetan calligraphy at Tsering Art School!)
However once I received the stamps and tried it on Shikishi board, I just loved them. They are really nice! I like so much that I want to make more with another syllables or some Tibetan motives in the future.
There will be HRI and TAM for this time. HRI is the seed syllable of the deity of compassion Avalokiteśvara-Chenrezig and also Buddha Amitabha, TAM is of Ārya TARA.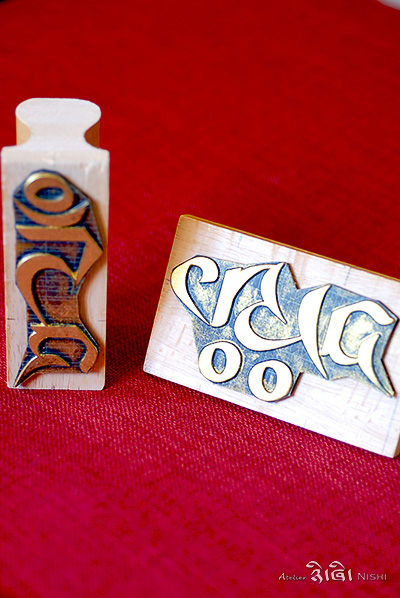 I have also prepared a new book "Introduction to Traditional Thangka Painting~Flowers of the Karma Gardri style~"
It's a manual book for Thangka painting.
I will use some page images from it to explain the technique in this workshop.
The book contain simple explanation of how to create a Lotus for Thangka beginner, as this version is for flowers.
And many different line drawing examples of flower which are all from our tradition, Karma Gardri style.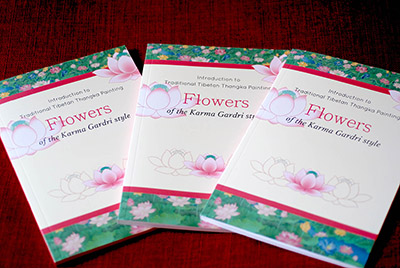 I am going to make another version of this book,,, fire, water, animals, etc in the future and hopefully to reach until the version of the deities to createa real Thangka painting.
This flower version is the first of this project.
There is almost no writing in this book. Everything will be explained by images with many icons for the tips for each step.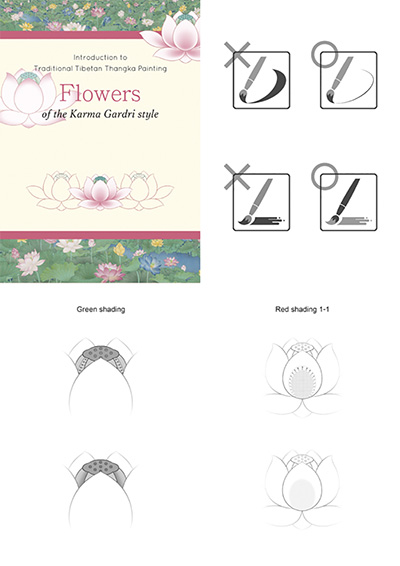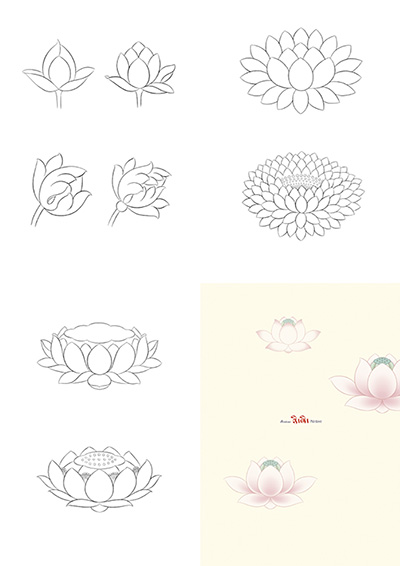 These simple icons contain the information which I learned from my teachers and through 20 years of my experience.
There will be a sheet of paper to explain the meaning of each icon and I'm going to explain more in detail in this workshop.
The book will be available for purchase soon on our online shop and also at Munsel Thangka School of Art 捺烩赔卡供侯技 during the workshop.
I'm currently preparing for this workshop with great excitement and will be looking forward to see you in Hong Kong this summer!