The "Patra" -the expression of the Light-
2018.10.15 Monday
In Thangka painting, the body halo or nimbus is depicted as a colored circle around the deity's body.
The simple halo can be just a colored circle with shading and thin gold lines to depict the light rays from the body.
For more elaborated version consists of several repetition of complex spiral pattern called "Patra" which resemble the tale of the sea monster Makara.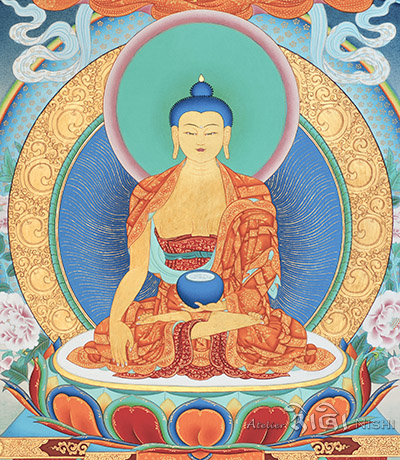 Thangka of the Buddha Shakyamuni with gold Patra.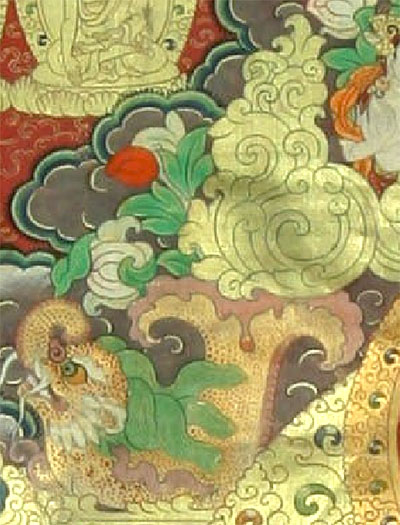 The sea monster "Makara" with golden spiral tail.
(image from Himalayan Art Resourses)
The pigment of pure gold is used very effectively in Thangka painting includes for the "Patra".
Here is my recent work featuring the Patra.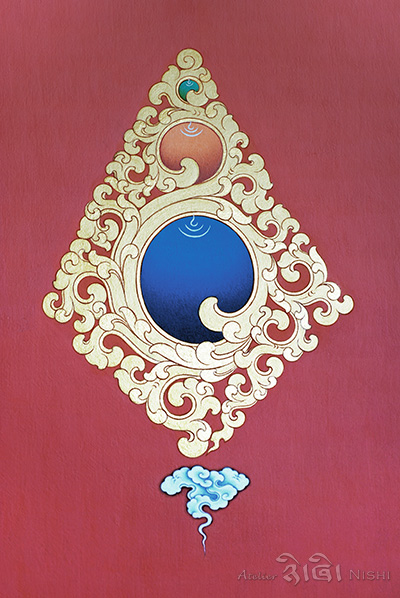 The back ground is painted with natural vermilion which is believed to have a power against evil in Asia.
The swirling Patra is painted with gold and depicted with three different colored Norbu-the Wish full filling Jewells.
Most of time, the Patra painted with gold in Thangka painting is polished to get more shiny effect.
It can be polished all the part painted with gold for small Thangkas or to save time. The polished gold gives metallic shiny effect and make the Thangka really magnificent.
However, in that case, the gold part looks rather flat compare to other part painted in color with shading.
For this reason, in Thangka painting we often polish only some parts and leave the other parts unpolished "matte gold".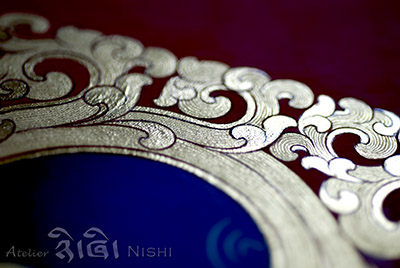 As the Patra is a motif to express "the Light", even the "matte" parts are polished for this painting but as several thin lines which follow the movement of Patra.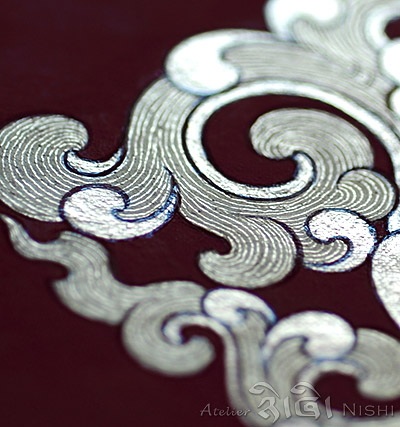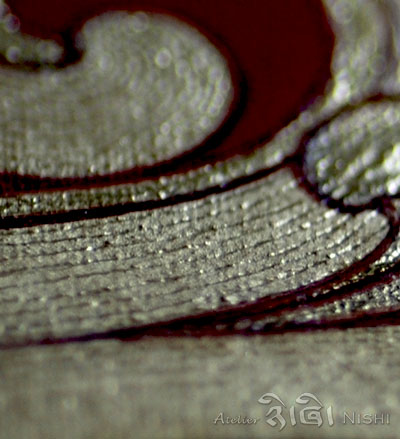 In the closer images, we can see the lines are almost like carved on the surface of flat painted gold.
This is quite time consuming technique but these line polished parts shine beautifully and yet easily distinguished from the fully polished part.