"21 Taras" [in process...38 Burnishing the gold 2]
2015.09.19 Saturday
There is only a few area remaining to burnish.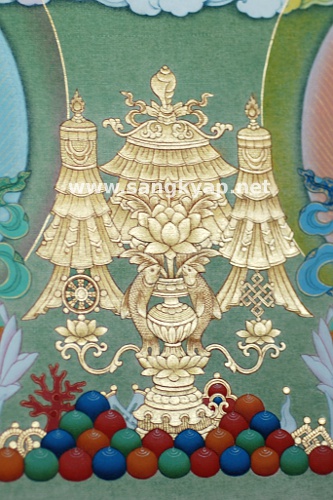 This is the eight auspicious symbols. The parasol, the golden fishes, the treasure vase, the conch shell, the endless knot, the victory banner and the wheel of Dharma.
~"Eight Auspicious Symbols" 17 Jan. 2013~
Here these eight symbols are put together as an offering and burnished with shading effect by controlling the pressure of the burnishing stone.
I could just quickly burnish it without the shading which is more commnly seen in the thangka of Karma Gardri style and that was I was thinking to do initially.
Somehow I feel that maybe I unconsciously choose more time consuming method in order to stay working on this thangka.
Anyway, the remain part to burnish gold now is only for the main Grenn Tara.