Yonten from the film "Thangka"
2015.09.02 Wednesday
I have a pain in my neck and have been not able to do detail work for my Thangka.
I'm reading, studying and checking things on the internet.
While I was looking something about Thangka painting on the internet I found a familiar face.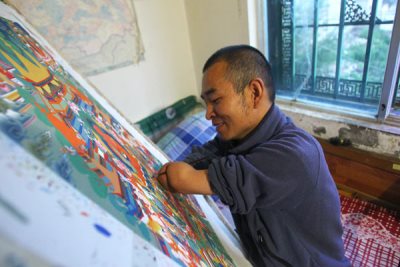 <The original article and the image are from
"Buddha & Asian antiques blog">
His name is Yonten who was playing the Thangka painter "Ga-ga" in
the film "Thangka" which I wrote about in this blog
recently.
He is a Thangka painter not only in the film.
Looking at his happy face on this image make me want to paint Thangka despite the pain in my neck.