"21 Taras" [in process...36 Gold_6]
2015.07.24 Friday
I've started to paint the gold pattern for the main figure, Green Tara.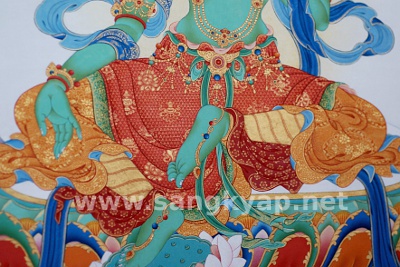 Though the Thangka painters need to follow some "rules" to paint Thangkas, the proportion of the deities, the hand gesture, attributes,,etc,,,etc, painting gold pattern is one of the few stages where the painter have more freedom.

It can be done very quickly and easily just by filling up the space with simple pattern.

But it will be, Of course, much more beautiful and will show the dignity of the deities with time consuming but finely made gold pattern.

What is important is the quality time of the process.

There is the completion of the painting at the end of process just as a result.

On the garment where is painted with "Lithri" in Tibetan, the orange color, I have made some framed areas and filled them with Lotus and arabesque pattern.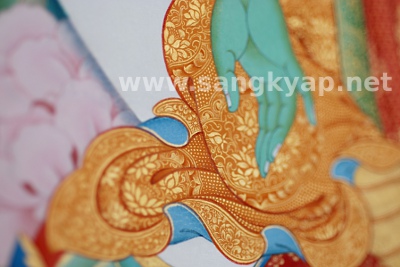 The border of the same orange garment is decorated with the design of several different flowers.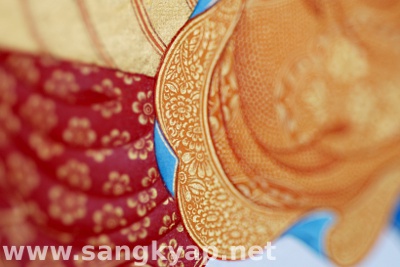 The design used for the red garment is called "Tashi Tagye" in Tibetan.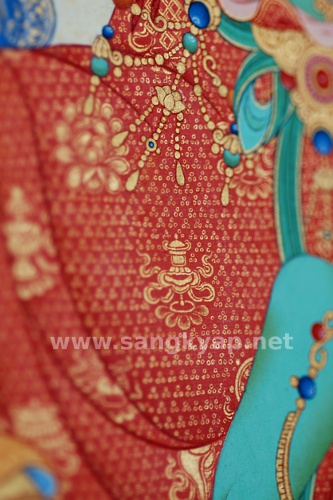 This "Tashi Tagye" is usually translated as "The eight auspicious symbols" in English.
It's a set of eight symbols very known in Tibet which are "the precious umbrella" "A pair of gold fishes" "the treasure vase" "the lotus" "the conch shell" "the endless knot" "the victory banner" and "the wheel of dharma".
The designs of "Tashi Tagye" are very much simplified here.
If you are interested to see more detailed depiction of "Tashi Tagye", please check my previous works from the links below.
・The carpet with "Tashi Tagye"....
http://thangka-en.sangkyap.net/?eid=10#sequel
・The banner of "Tashi Tagye"....
http://thangka-en.sangkyap.net/?eid=9#sequel
・"Tashi Tagye" panels ...
http://thangka-en.sangkyap.net/?eid=64#sequel